This post may contain affiliate links to products that I recommend and I may earn money or products from companies mentioned in this post. Please check out my disclosure page for more details.
Michigan, home to the Great Lakes and renowned for its breathtaking winters, hosts a myriad of cozy winter restaurants that offer a unique blend of comfort, warmth, and scrumptious cuisines. As the snow blankets the city, the local culinary scene comes alive with welcoming spaces designed to provide sanctuary from the freezing temperatures. These cozy winter restaurants in Michigan are visited by many.
Two such standout places, with their distinctive charm and diverse menus, are Sava's in Ann Arbor and Legs Inn in Cross Village. From modern sophistication to rustic authenticity, these restaurants captivate patrons not only with their hearty dishes but also with their inviting atmospheres.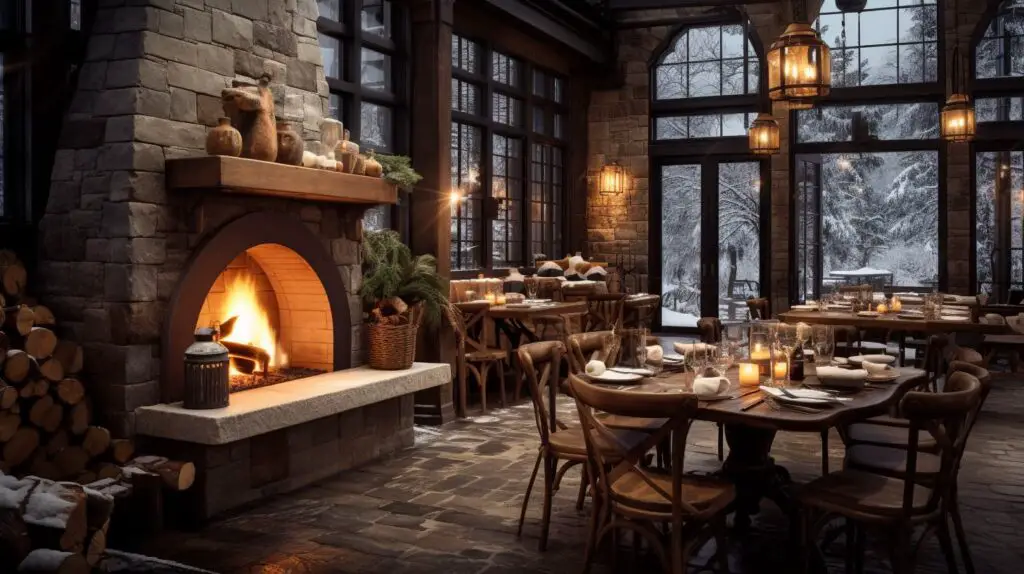 Sava's, Ann Arbor
Sava's, Ann Arbor: A Toasty Refuge from the Michigan Winter
If you find yourself in Michigan during the cold winter months and you're on the hunt for a place to warm up, Sava's in Ann Arbor is highly recommended. Known for its combination of cozy ambiance and modern design, Sava's provides not only a shelter from the freezing temperature, but also a memorable dining experience resonating with heartfelt hospitality.
With its warm lighting that brings an intimate, glowy atmosphere to the place, the cold from outside quickly melts away. Savor the inviting charm of the carefully arranged interiors, along with comfortable seating that makes you want to unwind and stay a while. There's no better way to escape the chill outside than to snugly tuck yourself in one of their rustic-chic seating areas.
Food, of course, is another highlight of this cozy winter restaurant. At Sava's, food lovers are spoiled with a diverse menu that caters to various tastes. Whether you prefer a light, refreshing salad or a hearty meat dish that fills you up and warms you down, there's no shortage of options to select from. Each dish is crafted not just to satisfy your hunger but to inspire your palate with their unique twists on flavors.
Yet, what sets Sava's apart is more than its warm environment and delectable offerings. It's the sense of hospitality that echoes throughout your dining experience. From the personnel's welcoming smiles to the attentive service, they make sure that you feel taken care of. By the time your visit comes to an end, the warmth of their hospitality leaves a lasting impression, making Sava's a toasty oasis that you would want to come back to in the midst of a frosty Michigan winter.
Legs Inn, Cross Village
A Cozy Historical Landmark: Legs Inn in Cross Village
No cozy winter restaurant list is complete without mentioning Legs Inn. Recognized as a historical landmark in Michigan, this quaint Polish restaurant offers an unforgettable dining experience in the midst of winter.
Amid the chilly Michigan temperatures, walk into a warm and inviting atmosphere inside Legs Inn. The pleasant crackling of the fireplace is a comforting sight, creating the perfect cozy ambiance to warm you after your day in the frosty winter. Surrounded by rustic wooden furniture and captivating art pieces throughout the place, Legs Inn carries an aura of old world charm, enveloping guests in a sense of ease and relaxation.
A Unique Polish Dining Experience
At the heart of Legs Inn's attraction, beyond its charming ambiance, is its superb Polish cuisine. Satisfy your winter cravings with their signature dishes like pierogis, kielbasa, golumpki, and golabki. Committed to maintaining authenticity, every hearty meal served is a tribute to traditional Polish culinary heritage.
The combination of a charming atmosphere, the warmth of the fireplace and the delightful taste of authentic Polish cuisine make Legs Inn more than just a restaurant—it's a destination on its own. If you are in Michigan during winter, skipping Legs Inn in Cross Village would indeed be a miss. This classic gem provides a perfect setting for your winter dining experience, promising an unforgettable evening filled with warmth, comfort, and delicious food.
As winter blankets Michigan in a spectacle of frost and snow, these cozy restaurants stand as beacons of warmth, hospitality, and culinary delight. Sava's in Ann Arbor and Legs Inn in Cross Village, each with their own unique charm and ambiance, offer memorable dining experiences that go beyond satisfying your hunger.
They serve love and warmth on a platter, providing a perfect respite from the harsh winter, and making the dining journey as remarkable as the destination. In the heart of winter, these Michigan restaurants promise the magic of sumptuous cuisines, enchanting atmospheres, and cherished memories that last long after the last snowflake melts.