This post may contain affiliate links to products that I recommend and I may earn money or products from companies mentioned in this post. Please check out my disclosure page for more details.
---
Discover the beauty and diversity of Michigan with its many unique attractions. From breathtaking lakeside vistas to secluded forests, awe-inspiring lighthouses, and sandy beaches along the Great Lakes, Michigan has something for everyone. There are so many things to do in Michigan and unique places to go in the state. Whether you're looking for outdoor activities, cultural attractions, historic sites, or something else entirely, there is an abundance of unique attractions in Michigan offering hidden gems waiting to be explored. Get ready to experience all that Michigan has to offer!
Spend Time on Mackinac Island
This picturesque island is home to many historical sites and buildings, as well as a variety of outdoor activities such as biking and kayaking. It's also home to the famous Grand Hotel, which has been featured in many movies and television shows.
When I go to Mackinac Island, I always check out the best Mackinac Island restaurants because many have breathtaking views that can't be found anywhere else.
To get to Mackinac Island, you can take a ferry from several ports along the Michigan coast. Once you get to the island, explore its many attractions, such as Fort Mackinac, and see where British forces once defended the area against American settlers during the War of 1812.
Explore Sleeping Bear Dunes National Lakeshore
This national park is located on Lake Michigan's shoreline and features miles of sand dunes, forests, and lakeside trails. It's a great spot for camping, hiking, swimming, or just taking in the scenery.
Be sure to check out the dune climb, located at the north end of the park. It's a challenging climb that leads to an incredible view from atop the dunes. Be warned. It's not for the faint of heart.
Visit The Henry Ford Museum of American Innovation
This museum showcases artifacts from America's past and present, including cars, airplanes, trains, toys, tools, furniture, and more. It's a great place to learn about America's history while exploring its technological advances over time. 
Located in Dearborn, Michigan, the museum also offers several interactive exhibits that are fun for all ages. You can also stray from the beaten path and take a tour of the Rouge Plant, where the Ford F-150s are manufactured, and discover how this iconic vehicle is assembled. You can sign up for the tour at the Henry Ford Museum website.
From the "Driving America" exhibit to the hands-on activities at KidZone, the Henry Ford Museum is a great place to explore, learn and have fun. Inquire about annual passes that offer a discounted entry fee and unlimited access to the museum.
Experience the Beauty of Pictured Rocks National Lakeshore
This stunning lakefront park features colorful sandstone cliffs along Lake Superior's shoreline that are perfect for sightseeing or photography opportunities. You can also explore the area by boat or kayak to get an even better view of the landscape. It's one of the best spots for kayaking in Michigan for enthusiasts.
If you're feeling adventurous, take the trail up to the top of Au Sable Point Lighthouse for spectacular views of Lake Superior. The hike is worth it for the stunning images waiting at the top.
Step Inside the Astounding Marvin's Marvelous Mechanical Museum and Discover a World of Man-Made Magnificence
This museum features a variety of vintage arcade games and pinball machines from decades past that is sure to bring back memories for anyone who grew up playing them. Some of the most popular machines include Pac-Man, Donkey Kong, and Space Invaders.
In addition to the arcade games, the museum also houses a collection of antique vending machines, old music boxes, vintage clocks and watches, jukeboxes, animatronics figures, and much more. It's truly a marvel to behold and one of the unique Michigan places to visit.
Ride the Dequindre Cut Greenway Urban Gem
This two-mile-long greenway runs through downtown Detroit and features artwork from local artists along its path, as well as plenty of bike lanes for cyclists looking to explore the city. If you want to explore the city on two wheels, this is the spot for you.
You can take a ride along the path and admire the unique graffiti art as well as some of Detroit's most iconic landmarks. The Dequindre Cut also serves as a walking path, so if you're looking for an easy way to get around town, this is it.
Feast Upon Mallie's Massive Burger
If you're looking for something unique (and delicious), then look no further than Mallie's Huge Burger in Southgate. They serve up some of the biggest burgers you'll ever see. The "Mallie's Monster Burger" has won awards in the past for weighing in close to 1,800 lbs. Needless to say, it's definitely worth a visit.
Immerse Yourself in an Age-Old Adventure at the Prehistoric Forest Amusement Park
Located near Oscoda, this amusement park features life-sized dinosaur replicas that will take you back millions of years ago. There are also rides and other attractions throughout the park that make it fun for all ages!
The Prehistoric Forest is a great place to explore with the whole family and make some terrific Michigan family vacation memories. Plus, it's the only park in Michigan that has dinosaur-themed attractions.
Stimulate Your Kids' Curiosity and Imagination at Ann Arbor's Hands-On Museum
This interactive museum allows visitors to explore science through hands-on exhibits such as a giant bubble maker or a simulated tornado machine. I've spent a lot of time in this museum, and it's always a fun experience.
It is designed to help children learn the principles of science in a creative way while still being entertaining at the same time. Whether you are looking for something to do on a rainy day or just want to explore with your kids, this museum will keep them engaged and entertained!
Discover the Captivating World of Art at the Detroit Institute of Arts
This world-renowned art museum features works from around the globe and across centuries. If you are an art enthusiast or simply want to learn more about the history of art, this is a great place to visit.
The museum also offers educational programs and activities throughout the year, such as lectures, workshops, and kid-friendly events. It's definitely a must-see for any art lover visiting Michigan.
Drive Through the Heidelberg Project
Located in the McDougall-Hunt district of Detroit, Michigan, The Heidelberg Project is an inspirational outdoor art installation designed to spark joy and creativity. Founded by artist Tyree Guyton, this dynamic project has attracted both local and international recognition for its unique approach to urban renewal.
Through a combination of colorfully painted objects, including houses, cars, and trees, as well as interactive sculptures made from found materials like tires or stuffed animals, this community space provides visitors with new ways to experience art while inspiring hope amongst all those who visit it. This outdoor art installation in Detroit has been delighting visitors since 1986.
Delve into the Captivating History of Grand Rapids at the Grand Rapids Public Museum
The Grand Rapids Public Museum is a great way to learn about the city's rich history. The museum features permanent and changing exhibits on everything from local art historical artifacts, and science. There are even interactive exhibits that you can explore with your children, so it's definitely a place the whole family can enjoy!
Grand Rapids has a fascinating history, and this museum is a great way to immerse yourself in it. From the interactive exhibits to the engaging activities, you will come away with an appreciation for all that Grand Rapids has to offer. Grand Rapids is also home to some of the best day spas in Michigan, so after a day of exploration, you can take some time to relax and rejuvenate.
Lose Yourself in the Depths of History and Knowledge with a Visit to The Great Lakes Shipwreck Museum
Located on Whitefish Point, this museum preserves the history of shipwrecks on Lake Superior and offers educational programs for visitors. The museum features artifacts from numerous ships which sank in the lake, as well as exhibits showing the evolution of shipbuilding and navigation throughout history.
If you are an avid explorer and appreciate learning about maritime culture, this is definitely a place you should visit when traveling to Michigan. The museum offers educational programs for adults and kids alike, so everyone can come away with something new!
Experience the Unique Adventure of Crossroads Village & Huckleberry Railroad
Going here as a kid, I have great memories of getting my first model train and visiting the village. This unique attraction offers a peek back in time to when Michigan first became a state and is full of fun activities. Explore a fascinating world filled with steam locomotives, carousel rides, and old-time charm.
You can hop aboard an old-fashioned steam engine, check out the hand-carved carousel horses in action, or explore the 29 historical buildings that populate the village. This historic village features a steam-powered train ride through Genesee County's countryside, as well as shops, restaurants, and other attractions. It's definitely a great way to get your kids learning about local history while having a ton of fun.
Explore The Manistee National Forest 
The Manistee National Forest contains some of the most beautiful scenery in Michigan and is one of the top destinations for outdoor enthusiasts. If you are looking for camping, hiking, fishing, or just want to enjoy nature's beauty, then this is the place for you!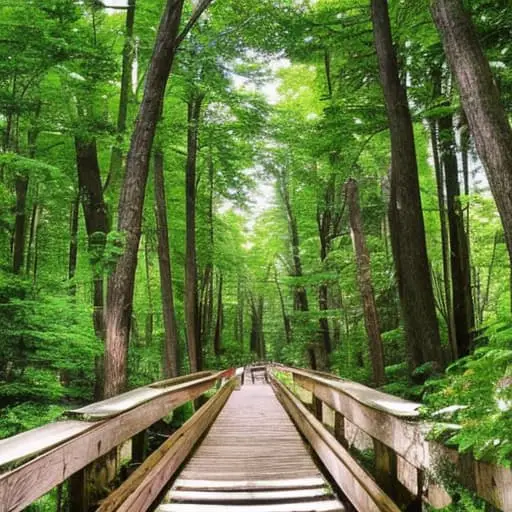 Explore the trails and campgrounds that are dotted among the lush, rolling hills. Take a day trip to one of the scenic vistas or check out the best Lake Michigan beaches nearby in the area. Rent a canoe and paddle along some of the area's rivers if you choose. This forest has everything you need for an unforgettable outdoor experience.
Experience the Exhilaration of Tree Runner Adventure Park at West Bloomfield
The Tree Runner Adventure Park at West Bloomfield is an outdoor adventure park for the whole family. This treetop adventure course features over 60 exciting elements, including ziplines, suspended bridges, cargo nets, and more! Adventure seekers of all ages can challenge themselves as they move from tree to tree on this self-guided discovery course.
Parents can rest assured knowing that Tree Runner Adventure Park is designed with safety in mind and provides a full-body harness system. There are courses for first-time adventurers as well as adventurous veterans, so everyone can find their own thrill here! It's a great way to get your blood pumping and have some fun outdoors in Michigan.
Michigan's Adventure Amusement Park Offers Fun for the Whole Family
Michigan's Adventure is the state's largest amusement park, and it has something for everyone. The park boasts over 50 thrilling and family-friendly rides, including roller coasters, water slides, go-karts, and more! There are also plenty of places to eat, shop, and even catch a live show or two. When you get tired, you can go float along the lazy river.
I always love taking my kids to Michigan's Adventure and spending time in their water park. It's a great place to take the whole family for a day of fun and adventure.
The Saugatuck Dune Rides Are a Must-See in Michigan
Take an exciting journey over the dunes of Lake Michigan with Saugatuck Dune Rides. Climb aboard the open-air jeeps and wind through the sandy terrain while spotting wildlife and stops along the way! This is definitely one of my favorite things to do when I am in Michigan.
The knowledgeable guides will provide you with fascinating facts about this unique area and even take you to see some of its hidden gems. These breathtaking views are sure to make your trip memorable as you explore one of nature's most majestic landscapes.
Tahquamenon Falls State Park Is a Sight to Behold
Tahquamenon Falls State Park is home to Michigan's second-largest waterfall, Tahquamenon Falls. This incredible park is filled with lush forests and breathtaking views of the falls. You can take a scenic walk along the riverbank, have a picnic, or even catch glimpses of some wildlife.
The Upper Falls at this state park is over 200 feet wide and an amazing sight to behold! The sheer power of these falls will surely leave you in awe as you witness one of nature's most beautiful creations. And if you look closely enough, you may even see eagles soaring through the sky while you explore the area.
Embrace Endless Beauty and Adventure at Isle Royale National Park
Experience the vast wilderness, lush forests, pristine waters, incredible wildlife, and other natural wonders that make this park an amazing destination like no other. Getting to the park is part of the adventure, as you can take a boat or seaplane to get there. Once you arrive, explore the island by foot, kayak, or boat and embrace all that nature has to offer.
The Isle Royale National Park also offers a number of hikes and trails so you can experience this breathtaking landscape up close. Keep an eye out for wildlife, including moose, foxes, and wolves. It's definitely a beautiful place to explore in Michigan.
Escape to Frankenmuth River Place Shops & Bavarian Inn Restaurant
Enjoy shopping at over 70 specialty stores or indulge in delicious German cuisine at this Bavarian-style village located near Saginaw Bay. Frankenmuth is also home to one of the best indoor waterparks in Michigan, Splash Village, making it a great place to visit year-round.
With its cobblestone streets, old-world architecture, and friendly locals, this town is the perfect getaway for a weekend full of fun and relaxation. You can also enjoy live music and entertainment throughout the year at Frankenmuth's River Place Shops & Bavarian Inn Restaurant. Summertime is especially popular, and you can find festivals, concerts, and plenty of activities to keep you busy.
Stay at the Luxurious Grand Hotel on Mackinac Island
From breathtaking views of Lake Huron, stunning architecture, and exquisite dining experiences, The Grand Hotel is an unforgettable destination for your next vacation or special event. One of the best hotels on Mackinac Island, this timeless hotel has been host to many presidents, celebrities, and vacationers alike.
At the Grand Hotel, you can take a tour of the grounds and explore everything this historic hotel has to offer. You will also find plenty of outdoor activities such as golfing, horseback riding, biking, kayaking, and more! Spend your days enjoying the endless beauty that Mackinac Island has to offer, or just relax at one of their luxurious spa services. No matter what you choose to do, you're sure to have a wonderful time when staying at The Grand Hotel.
Unlock the Mysteries of Science at Cranbrook Institute of Science
Located in Bloomfield Hills, the Cranbrook Institute of Science is a great way to learn more about science and explore the world around you. Featuring interactive exhibits and events, this museum is perfect for families, students, and science enthusiasts alike. Considered one of the best romantic date ideas in Michigan, the grounds also offer a gorgeous outdoor setting for an evening of stargazing.
Explore the wonders of galaxies and stars in the planetarium, or get up close with some amazing creatures in their living collections. With over 250,000 specimens on display from all over the globe, you're sure to be amazed by the many different species at this facility. Learn about everything from astronomy to zoology and unlock the mysteries of science during your visit.
The Iconic Michigan International Speedway
Home to some of the best racing events in the country, Michigan International Speedway is a must for any motor enthusiast. Located just outside Jackson, this racetrack has hosted many NASCAR and IndyCar races since it opened in 1968.
Walk around the track and explore every corner or get behind the wheel yourself with one of their driving packages. You can also take part in pre-race activities such as autograph signings and pit tours so you can get an insider's glimpse into this exciting sport. Whether you're cheering from the stands or watching from your television at home, there is nothing quite like experiencing a race day at MIS!
Walk a Drained Lake Bed at Wixom Lake
There are not many places in the country where you can walk across a drained lake bed, but Wixom Lake is one of them. Located near Midland, this area was once a booming tourist destination for fishing and other outdoor activities. As a result of the Wixom Lake dam break in 2020, the lake was drained and now serves as a unique spot to explore.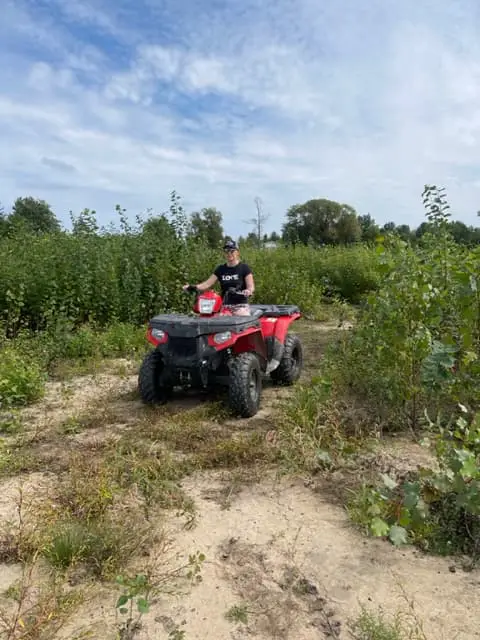 As you wander around this "ghost lake," you will find sunken boats, old docks, and plenty of other interesting objects that were left behind. It's an incredible experience to be able to walk through a piece of history like this, and it is sure to be something you won't forget. I've walked this drained lake bed, and there is no experience like it. So make sure to check out Wixom Lake the next time you're in Michigan!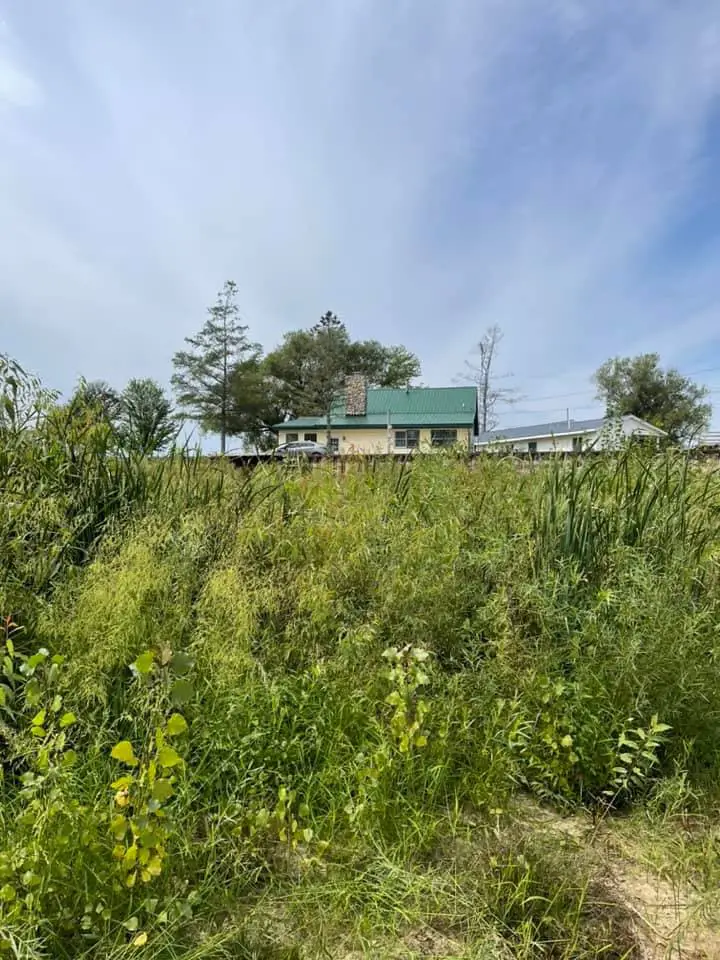 Attend the Tulip Time Festival In Holland
Every May, the city of Holland comes alive with the vibrant colors of tulips during its annual Tulip Time Festival. For over 90 years, this five-day event has become one of Michigan's biggest floral celebrations, drawing thousands to its picturesque town.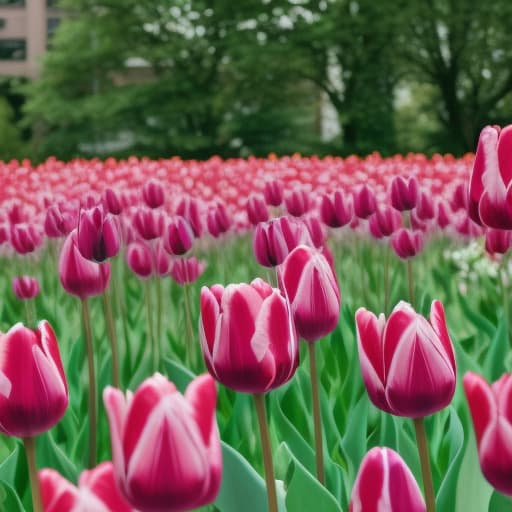 At the festival, you can take in the sights and smells of over five million tulips in bloom, as well as enjoy daily parades, musical performances, and other entertainment. You can also explore some of Holland's many shops and restaurants or take a scenic boat ride on the lake for a truly unforgettable experience. Whether you're looking for a fun day trip or an entire weekend getaway, Tulip Time is sure to put a smile on your face!
Immerse Yourself in the Cinematic Magic of the Traverse City Film Festival
Calling all movie buffs because Michigan also hosts the Traverse City Film Festival every summer. This ten-day event is one of the largest film festivals in the United States and showcases some of the best independent films from around the world. Take part in various workshops, seminars, and screenings or just sit back and enjoy a night out at the movies.
Traverse City's beautiful waterfront setting makes this festival extra special, as it allows attendees to get outdoors while still enjoying their favorite films. Whether you're cheering on your favorites or taking home an award yourself, you'll never forget your experience at this incredible event. You can also check out some of the best Leelanau Peninsula wineries also in the area while you're there.
Related Resources
What is the Number One Tourist Attraction in Michigan?
The top destination for tourists in Michigan is Mackinac Island. This charming island in the Straits of Mackinac has been a popular summer getaway since the late 1800s. You can explore its historic sites, ride bikes around the 8-mile perimeter of the island, or take a horse-drawn carriage tour to some of its famous landmarks like Fort Mackinac, Arch Rock, and The Grand Hotel.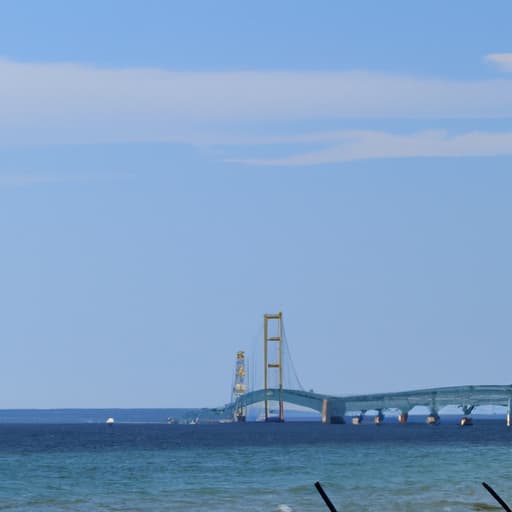 At night you can stroll along Main Street, shop at one of the many boutiques and galleries, or dine at one of their delicious restaurants. There are also plenty of water activities, such as parasailing, sea kayaking, and fishing, if you're looking for something more adventurous during your visit. No matter how you decide to spend your time, you're sure to have an unforgettable experience at Mackinac Island!
What Things are Unique to Michigan?
For those who have never been to Michigan, there are some unique experiences that you won't find anywhere else. From the Great Lakes to the festivals, here are just a few of the things that make Michigan special: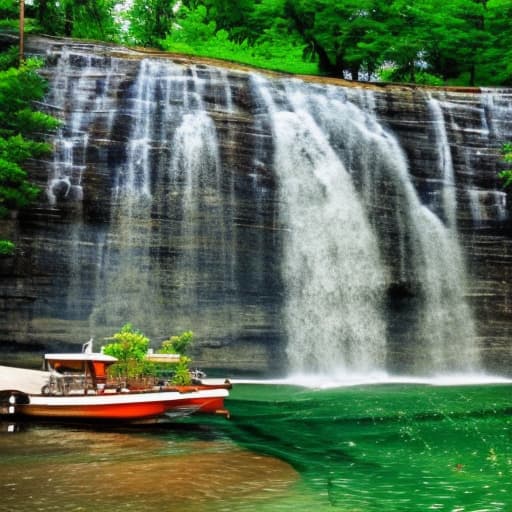 • Touring the lighthouses along Michigan's coastline is a great way to explore its maritime history and experience breathtaking views.
• With over 11,000 inland lakes, you can enjoy all sorts of water activities, from fishing and kayaking to swimming and boating.
• Every summer, Detroit hosts Movement Festival – an electronic dance music event featuring world-renowned DJs that draws thousands of people from around the globe.
• There are five national parks in Michigan that offer plenty of opportunities for camping, hiking, and other outdoor adventures.
• Michigan has some of the best craft breweries in the country, so it's perfect for the beer lover who wants to sample local flavors.
• Visit any of Michigan's charming small towns or cities for a truly unique experience – from art galleries and boutique shopping to farm-to-table restaurants and wineries.
What is the Most Beautiful Part of Michigan?
Michigan is full of beautiful places, but one of the most stunning spots in the entire state is Pictured Rocks National Lakeshore. This breathtaking area along Lake Superior offers visitors a chance to explore sandstone cliffs and beach formations, waterfalls, caves, lakes, and forests. It's also home to an amazing array of wildlife, including bald eagles, black bears, beavers, and grey wolves.
Spend a day hiking the trails or take a boat tour to see some of the unique rock formations up close. With its stunning views and natural beauty, it's no wonder why this spot has been deemed one of Michigan's national treasures.
What is the Coolest Place to Visit in Michigan?
When it comes to cool places to visit, one of the best is the Renaissance Festival, located in Holly, Michigan. This lively event runs from June through August and features an eclectic mix of food, music, entertainment, and more. Step back into a 16th-century village as you explore its artisans' booths and watch live performances, which include jousting knights and magicians.
You can also take part in fun activities such as axe-throwing, archery, and jester hat-making or go on themed scavenger hunts. It's a great way to experience life during medieval times while having a blast at the same time.
From the shores of Lake Michigan to the rolling hills of the Upper Peninsula, there is so much to explore in Michigan. Get ready to make some incredible memories while discovering all of these unique attractions and experiences that this beautiful state has to offer!
As always: stay safe, be kind, and happy travels!
Related Articles:
47+ Best Thrift Stores in Michigan for Amazing Value
35+ Best Romantic Places to Stay in Michigan for a Getaway
15+ Best Scenic Drives in Michigan [Ultimate Guide]
11+ Best Outdoor Concert Venues in Michigan