This post may contain affiliate links to products that I recommend and I may earn money or products from companies mentioned in this post. Please check out my disclosure page for more details.
Michigan, the American Midwest's crown jewel, holds a profound tradition as the frontier of winemaking in the United States. The wineries and vineyards that dot this state have firmly interlaced the art and science of viticulture to the fabric of Michigan's identity. Offering a rich tapestry of history, culture, and palate-pleasing excellence, these sites are testaments to Michigan's dedication to the vintner's craft.
This legacy has not only created a robust economy and wine tourism but also enriched the state's cultural panorama. So, as we savor a glass of a Michigander vintage, let us embark on a journey through its diverse landscape of vineyards and top Michigan wineries, exploring their historical significance, the distinctive wines they produce, as well as a practical guide to experience the best they have to offer.
History and Significance of Michigan Wineries and Vineyards
Origin and History of Michigan Wineries and Vineyards
Michigan's winemaking history dates back to the 1860s when early settlers discovered that the region's lake effect made it a prime location for grape cultivation. In 1868, an immigrant named Karel Lachman planted the first vinifera grape vines. However, the fledgling industry was almost entirely decimated after the Temperance Movement led the charge for Prohibition in the early 19th century. It wasn't until 1933, when Prohibition was repealed, that grape growing for wine started to flourish again.
Significance to Michigan's Economy
In the modern era, the vineyards and wineries of Michigan have become pivotal drivers in the state's economy. Michigan is the fifth-largest grape-growing state in the U.S., with the industry supporting thousands of jobs both directly and indirectly. According to recent estimates, Michigan's wine industry leads to an economic impact of nearly $5.4 billion annually. Michigan's wine industry also pays more than $750 million in annual wages, directly and indirectly, and has contributed $187 million in federal, state, and local taxes.
Contributions to Tourism
One cannot underestimate the importance of Michigan's wineries and vineyards to the state's tourism. With more than 140 wineries spread across the state and two American Viticultural Areas — the Old Mission Peninsula and the Leelanau Peninsula — Michigan has been increasingly recognized as a notable wine region. The wineries attract a large number of tourists each year, who not only visit for wine tastings but also for culinary events, concerts, and the breathtaking vineyard views. It brings in an estimated 2 million visitors per year.
Cultural Legacy
Beyond just being an economic powerhouse, Michigan's wineries and vineyards hold an extensive cultural legacy. This is largely credited to the grape varieties, which includes a wide range of hybrids, native American grapes, and even European vinifera. This diversity creates a vast array of wine styles that reflect the local traditions and tastes. The wines are gaining national and international acclaim for their quality and uniqueness, further enhancing Michigan's cultural footprint in the world of wine.
Origins and Growth of the Michigan Wine Industry
In the mid-1800s, the Michigan wine industry sprouted from a single vineyard and steadily grew over the years. Today, this testament to the resilient and innovative spirit of the people of Michigan now boasts more than 140 wineries distributed across five unique American Viticultural Areas (AVAs). With ongoing efforts to employ sustainable farming and the use of cold-resistant grape varieties to mitigate the local climate's challenges, the industry continues to flourish. The constant evolution introduces new wineries and wine brands frequently. At present, Michigan wineries produce over 3 million gallons of wine each year, positioning the state amongst the nation's top 10 wine producers.
Top Michigan Wineries and What They Offer
Exploring the Rich Wine Landscapes of Michigan
The diverse and storied wine country of Michigan offers an abundance of vineyards and wineries for enthusiasts to explore. Thanks to its proximity to the vast Great Lakes, the Michigan climate is unique and favorable for grape cultivation. The state's over 140 wineries produce a wide range of highly competitive, world-class varietals, presenting an enticing offering for wine lovers and adventurers alike.
Black Star Farms Winery
Located in Suttons Bay, Black Star Farms hosts two unique wineries, a distillery, an inn, cafes, and a stable. The winery is considered an agricultural destination with a variety of wines to sample, including Rieslings, Pinot Noirs, and their world-class dessert wines. They offer personalized wine tasting experiences, as well as special events like Harvest dinners and cooking classes.
Chateau Chantal Winery and Inn
Situated in Grand Traverse Bay, the Chateau Chantal Winery, and Inn offer a picturesque view over vineyards, cherry orchards, and the bay itself. The winery is known for its quality whites, reds, and rosés, along with a unique ice wine, produced from grapes harvested at sub-zero temperatures. Their dining and sleeping options enhance the wine experience and enable visitors to immerse themselves in Michigan's wine culture.
Mari Vineyards
Mari Vineyards, located on the Old Mission Peninsula, is known for pioneering a unique style of winemaking in Michigan. Using a mixture of classic varietals and unusual blends, the winemakers create bold red wines rarely found in northern climates. They offer an exhaustive tour of their estate and cave system, making it a preferred destination for wine enthusiasts seeking knowledge on viticulture and enology.
2 Lads Winery
Another gem in the Old Mission Peninsula wine trail is the 2 Lads Winery. This winery has garnered praise for its thoughtful, modern design and its emphasis on cool-climate reds and sparkling wines. The facility's unique architecture allows for a multi-level wine production process followed by gravity flow. Educational tours and tasting sessions are prime features of their offerings.
Leelanau Cellars
Leelanau Cellars, located in Omena, offers a wide selection of wines with a nuance of the fruitiness characteristic to the area. From Riesling to Cabernet Franc, and seasonal winter wines, the winery welcomes visitors with a diverse palette. Their tasting room, which overlooks the serene Omena Bay, is open all year round with no fees for tastings.
Round Barn Winery, Distillery & Brewery
Located in Baroda, the Round Barn Winery offers more than just wine – it's a center for spirits and beer as well, hence making it unique among Michigan's wineries. Known for their experimentation with hybrid grape varieties, the winery produces everything from classic whites and reds to fruit wines and dessert wines. Visitors can expect various events such as music in the vineyard, bus group tours, and even wine and yoga sessions.
Michigan wineries stand out for a number of reasons: their award-winning wines, groundbreaking production techniques, memorable tasting experiences, and breathtaking vineyard vistas to name a few. Each of these wineries plays a significant part in enhancing the reputation and fostering the growth of Michigan's flourishing wine industry by persistently upholding and advancing the standards of viticulture and winemaking.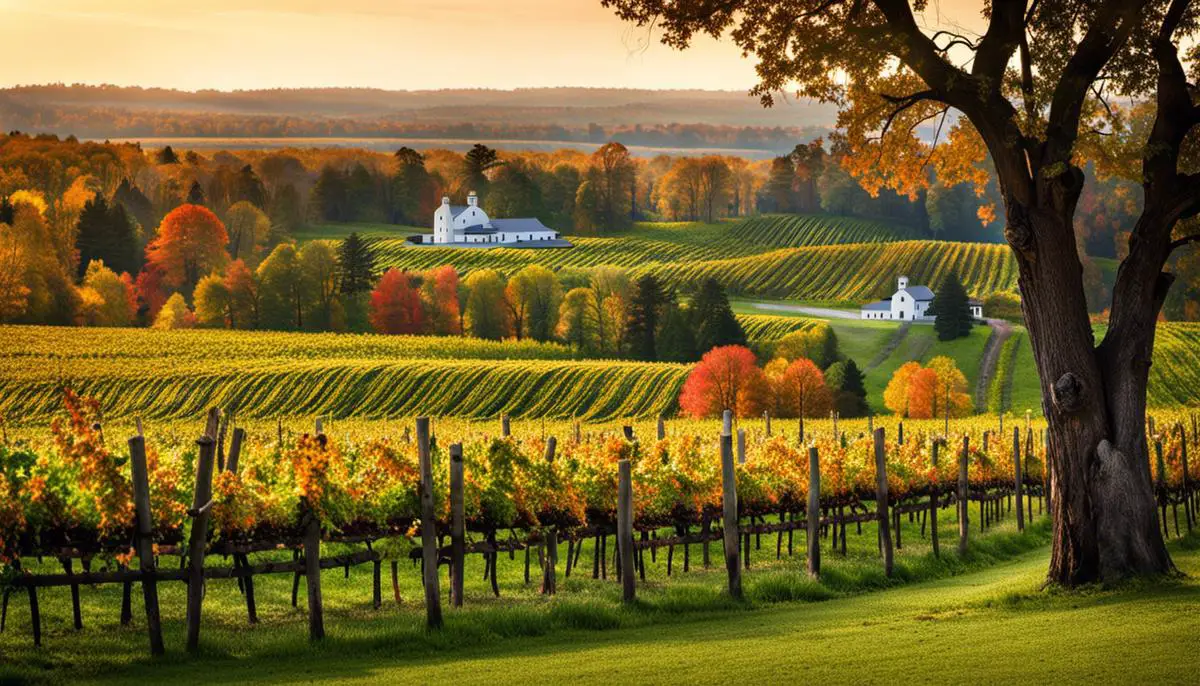 Michigan Wine Varieties
Assortment of Michigan Wines
As a wine enthusiast, you've likely had the pleasure of sipping the delectable wines produced in Michigan. This region's wineries offer a vast selection of wine types such as white, red, rosé, and both sweet and dry wines. Nevertheless, the wines that seem to consistently captivate the palates of wine lovers are those made from the distinguished Riesling and Pinot Noir grape varieties.
Michigan Riesling Wines
The Riesling wine is perhaps the most acclaimed from Michigan, owing to the prominence of the grape in the region. Riesling grapes typically grow in cool climates, making Michigan's cold winters an ideal environment for this variety. The resulting wine can vary considerably in taste, ranging from dry to sweet. Still, it generally maintains an expression of fruit that can be peach, apple, or pear on the palate, accompanied by a good balance of acidity. This high acidity level makes Michigan Riesling wines vibrant, crisp, often with an exquisite mineral undertone.
Michigan Pinot Noir Wines
Pinot Noir is among the most critically acclaimed red wines produced in Michigan. The complex process of growing Pinot Noir grapes which crave a cooler climate but are susceptible to freezing, somehow works perfectly in Michigan. The wines made from these grapes are typically medium bodied, with notes of cherry, strawberry, and raspberry. They also carry earthy undertones, including hints of mushrooms, leather, and wet leaves. The state's unique climate attributes contribute to the authenticity of these Pinot Noirs.
Sweet and Dry Wines of Michigan
Besides Riesling and Pinot Noir, Michigan is renowned for its sweet and dry wine varieties. Several vineyards specialize in creating sweet wines with a distinct Michigan stamp, often crafted from native grape varieties like Catawba and Concord. These wines are usually rich and fruit-packed, delivering a sweet finish that appeals to those who prefer residual sugar in their glass.
On the flip side, Michigan's dry wines often come from European (vinifera) grapes, which are well-suited to the region's distinctive climate. Chardonnay, Cabernet Franc, and Merlot are among the most prevalent, each offering lingering, dry finishes while still retaining enough fruit character to be unmistakably Michigan.
Rosé Wines of Michigan
A discussion of Michigan wines would be incomplete without a nod to the beautiful rosé wines that the region produces. These wines often present vibrant red fruit flavors, reflecting the fresh, abundant fruitiness of Michigan's viticulture. They're typically enjoyed slightly chilled, bridging the gap between red and white while offering something that's refreshing, versatile, and distinctly Michigan.
The Winemaking Process in Michigan
Understanding the winemaking process can enhance your appreciation of Michigan wines. Most wineries in the state follow traditional winemaking processes that commence with the harvesting of grapes during the fall. Following harvest, the grapes are crushed to release their juice, which is then fermented by adding yeast. The yeast consumes the sugars in the grape juice, producing alcohol and carbon dioxide.
After fermentation, the wine is aged in oak barrels for anywhere from several months to a few years. Aging in oak can impart additional flavors and tannins to the wine, contributing to its overall complexity. After aging, the wine is bottled and often rests for several more months before being released for sale. The combination of climate, soil type, grape variety, and production technique culminates in the authentic taste of Michigan wines.
As you venture into the world of Michigan wines, you will find yourself appreciating the diverse wine varieties and gaining insights into the winemaking process. Regardless of whether you prefer dry or sweet, red or white, there's no question that folks with different tastes will find something appealing in Michigan's extensive viticulture. This might well make your next sip of Michigan wine much more intriguing and satisfying.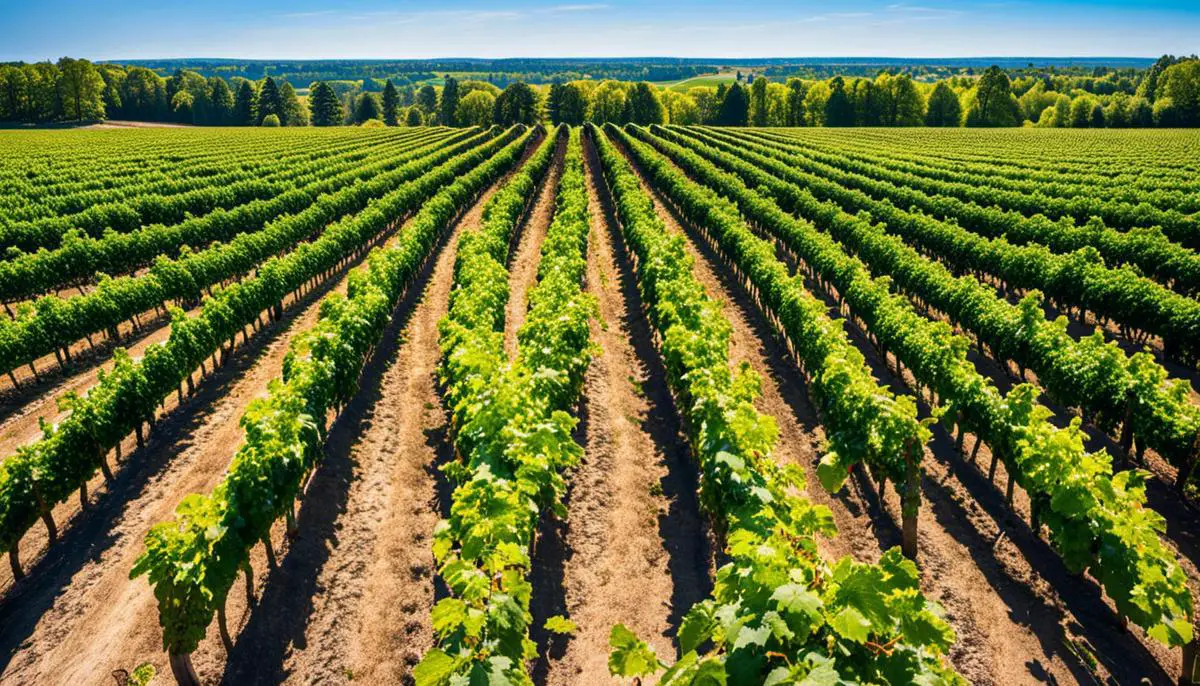 Visitor Guide to Michigan Wineries and Vineyards
Exploring Michigan's Wine Regions and Their Seasons
Michigan proudly hosts four established wine regions, each with its unique features – Lake Michigan Shore, Leelanau Peninsula, Old Mission Peninsula, and the Southeast Michigan Pioneer Wine Trail. The range of climates across these regions greatly influences the types of grapes that thrive there.
Nestled near the lake, the Lake Michigan Shore region enjoys the longest growing season and attracts wine enthusiasts for its bold reds and robust whites. The ideal falls in September and October, during the grape harvest season, provide the best experience to the visitors.
The Leelanau Peninsula and the Old Mission Peninsula are known to cultivate cool-climate varieties like Riesling, Chardonnay, and Pinot Noir. While their growing season usually stretches from May to October, it may fluctuate based on the winters. Visiting in October would provide a glimpse into the grape harvest.
The Southeast Michigan Pioneer Wine Trail offers a unique microclimate that nurtures various grape varieties such as Riesling, Cabernet Franc, and Chambourcin. The vineyards here buzz from April to November, with the grape harvest season running from late September to early October.
Wine Tasting Etiquette at Michigan Wineries
When visiting Michigan wineries, it's important to follow some basic wine tasting etiquette.
It's customary to start with the lightest wines and move towards the heavier or more full-bodied wines. There's usually water and bread or crackers available to cleanse your palate between tastings. Spitting out the wine after tasting it is acceptable and often encouraged to prevent intoxication. Remember not to wear perfume, cologne, or scented lotion, as it can interfere with your senses and the experience of others.
It's also polite to buy a bottle after a free tasting. However, in many Michigan wineries, there's often a nominal fee for a tasting.
Best Times to Visit Michigan Wineries
The best time to visit Michigan wineries depends on your interests.
For grape harvest and crush, September and October are ideal. Many wineries host special events during harvest time. If you're interested in witnessing the winemaking process, this is a perfect time to visit.
To beat the crowds, consider visiting during the winter months. Many wineries remain open, and the seasonal beauty provides a stunning backdrop for wine tasting.
Spring and early summer provide an opportunity to see the buds and young fruits. Festivals and release parties are common during these months.
Vineyard Tours and Wine Tasting Events
Vineyard tours in Michigan provide an opportunity to learn about the winemaking process. Most wineries offer tours to visitors, often led by the winery's owners or winemakers themselves.
Wine tasting events are another highlight. The annual Michigan Wine and Cider Festival in May introduces wines from over 40 Michigan wineries. Events like Harvest Stompede in Leelanau Peninsula and the Romancing the Riesling Festival in the Old Mission Peninsula celebrate the harvest and the region's signature wines.
Wine-Related Attractions in Michigan
In addition to vineyards and wineries, Michigan has a robust wine culture that caters to wine enthusiasts. The Michigan Wine Trail is a must-visit. Traverse City, known as the Cherry Capital of the World, is a hub for Michigan's food and wine scene with restaurants that offer locally sourced and wine-paired menus.
Museums like the Grand Rapids Public Museum offer exhibits on the history of winemaking in the state. For a unique experience, the Inn at Black Star Farms in Suttons Bay offers a bed-and-breakfast-style stay on a working vineyard with wine-tasting activities included.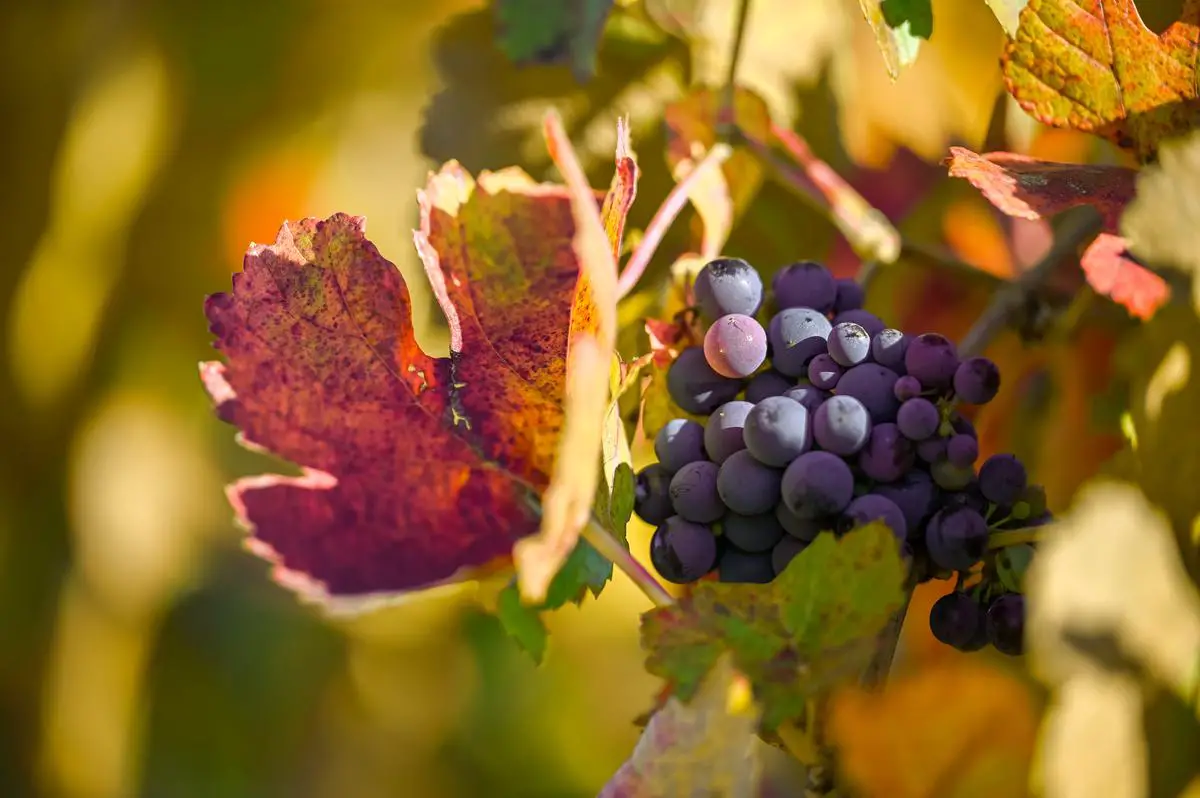 Embarking on a journey through Michigan's wineries and vineyards is an enchanting and educating venture. As you sample the diversity of the wine varieties, discover the nuances of tasting experiences, and delve into its rich history, you come face-to-face with the soul of Michigan that breathes through its rolling vineyards.
Whether you are an oenophile who appreciates a complex Pinot Noir or someone who enjoys the sweetness of a dessert wine, Michigan's vineyards and wineries offer an aromatic journey through time that is as authentic as it is intoxicating. Embarking on this journey also translates to supporting Michigan's economy and cherishing the vision and endeavors of its people that brew the true spirit of the state in every wine glass. So here's raising a toast the remarkable world of Michigan wines. The journey awaits.